November 8, 2013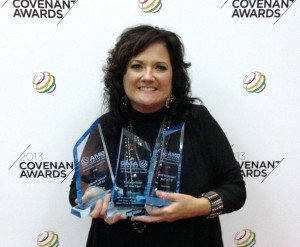 BURLINGTON, Ontario – Singer-Songwriter, Ali Matthews walked away with Female Vocalist of the Year honours for the third year in a row, at the 35th Annual GMA Canada Covenant Awards held on Wednesday, November 6 at the Crossroads Centre in Burlington, Ontario.
The Gala evening featured award presentations and live performances by Canada's top Christian artists including Stratford's Ali Matthews, Tim Neufeld (Starfield), Paul Brandt, Fresh I.E., Carolyn Arends and The City Harmonic to name a few.
A highlight of the night was Matthews' newest single, I Saw Jesus. The song was nominated in several categories including Collaboration Of The Year, Song of the Year, Recorded Song of the Year and Inspirational Song of the Year. It was an evening for this very special song to shine.
Ali explains how the song came about, "This past spring, I was blessed to travel with World Vision to Ecuador along with fellow-artists Dan Macaulay, Joel Auge, Marcel Preston, Kevin Pauls & Matthew Grieve. These guys have such incredible hearts for God and for children in need. We had the privilege of meeting the children we sponsor through World Vision. Each of us saw Jesus in the faces of our sponsor-kids. We all came home compelled to share this experience with our audiences."
Matthews adds, "Having just returned from Ecuador, I came up with the song while driving home to Stratford from the Toronto airport. The entire song was created in 15 minutes on the 401 between Milton and Guelph; it was a gift!"
The Ecuador team eagerly lent their voices to the recording, produced by GMA 2013 Producer of the Year, Andrew Horrocks. The results were spectacular with the song winning Collaboration Of The Year and Inspirational Song of the Year. The evening was punctuated with Ali and the boys performing the song live in front of her industry peers; a powerful moment during the ceremony.
Matthews has been songwriting and performing since she was 15. Since 2000 she has released six critically acclaimed, award-winning CD's. A 42-time GMA Canada nominee, her mantle now displays 18 Covenant award trophies. She is currently working with Andrew Horrocks on her latest project, Tell Me a Story which is also featured on the crowd-funding platform Kickstarter.
In cooperation with Crossroads Television System (CTS), The 35th Annual Covenant Awards will be broadcast on CTS on November 9, 2013.
About Ali Matthews: www.alimatthews.com or visit her Kickstarter campaign at www.kickstarter.com/projects/alimatthews/tell-me-a-story
About GMA Canada: The GMA is the presenter of the annual Covenant Awards, Canada's national awards for the Canadian gospel music industry. Awards are handed out in over 50 categories. www.gmacanada.ca
For information and interviews,
Contact:    Ali Matthews
Website:    alimatthews.com
Email:        ali@alimatthews.com
Phone:      519.272.9658