November 20, 2013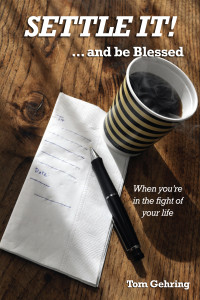 SANTA MONICA, CA — A new book, written by a California lawyer with more than three decades of civil litigation experience, is offering hope and help to Christians caught up in conflict. In Settle It! … And Be Blessed author Tom Gehring explores timeless, biblical principles for conflict resolution that go beyond the laws of the land to operating in God's wisdom.
In highly-readable, conversational language, Gehring shares personal insights, stories and lessons accumulated over the span of a successful legal career working at the crossroads of conflict, and more than 25 years of Christian living. Examining many of the sorts of conflicts that afflict our contemporary world through the lens of ancient wisdom, Settle It! … And Be Blessed will be of interest to those who find themselves engaged in relational, business, church, and legal conflicts, as well as conflicts of a more personal nature such as habits and addictions.
Gehring believes Christians are called to settle matters quickly. "Quickly, but not hastily," he explains. "Things that God wants you to do in life, he usually wants you to do quickly."
"Settling in a timely manner is an important principle," he adds, "you can't pursue your passion in the middle of your conflict."
But "settling" often demands a willingness to sacrifice. "The one that sacrifices nothing learns and discerns nothing," says Gehring. "You be the peacemaker. You don't qualify to win it, unless you've done everything to settle it."
Published by Montserrat Press, the book is available to Canadians in e-version through Amazon.ca.
For information, interviews and speaking engagements,
Contact:  Ri Doherty
Email:     admin@tomgehring.com
Phone:    (310) 264-7744
For photo of Tom Gehring, visit: CLICK HERE.
Backgrounder:
Tom Gehring, a lawyer with a substantial practice centered in Santa Monica, California, has been a trial lawyer-with cases in both state and federal courts-since graduating from Pepperdine University School of Law in 1979, where he was a member of the Law Review. A former mediator and adjunct professor of law at Pepperdine University School of Law, Tom continues to provide legal services to both national and international charities, helping to further their charitable, rehabilitative, and reconstructive purposes.
He continues to represent a select group of clients while devoting his time to mediation, writing, and speaking at conferences, law schools, churches, national and international charities. Click, to see a recent interview.