February 21, 2014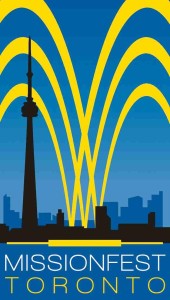 TORONTO, Ontario–(CANADIAN CHRISTIAN NEWS SERVICE)–Six weeks from now, on April 4-5, 2014 MissionFest Toronto will open its doors for the 19th time, to serve once again as a hub for learning, facilitating and networking Christian believers from a wide array of backgrounds. The theme of this year's conference is "Let your light shine." It will take place at Global Kingdom Ministries, 1250 Markham Road, in Scarborough, Ontario.
Featuring speakers and programs designed for pastors and leaders, men, women, children and youth, MissionFest Toronto is where the family of God come together. Ron Pearce, executive director of Empower Ministries will deliver the keynote address. Workshop leaders include David Macfarlane (Billy Graham Evangelistic Association of Canada) who will provide tools for overcoming fear and building authentic bridges to seekers in a session titled, "How to Let Your Light Shine." Paul Winter (Canadian LifeLight Ministries) will offer helpful steps for planning short-term missions trips for youth. And Byron Spradlin (Artists in Christian Testimony Intl), Doug McKenzie (Voice of the Martyrs) and Patty Kingsley (ACT Canada Inc.) will explore the tangible use of art in missions to our Canadian culture.
"Mission is at the very heart of God," says Sharon Ganesh, executive director of MissionFest Toronto. "We embrace that God calls us to be missionaries right where He has positioned us. At MissionFest you will find diverse ways of doing missions."
"This gathering of believers-from churches, educators, mission organizations, Christian businesses and individuals-has this once-a-year opportunity to meet with others, to learn and to listen to how God is leading," she adds. "For people seeking fresh inspiration or understanding of their role in mission, there's no better place to come."
Brian Stiller, Global Ambassador at the World Evangelical Alliance says the Church needs MissionFest. "In a postmodern age of heightened self-interest, the Church needs the kind of creative drive and Spirit boldness that MissionFest provides," said Stiller.
But MissionFest also needs the Church; MissionFest Toronto is seeking volunteers, prayer, partners, exhibitors and donations to ensure this annual gathering continues to fulfill the Kingdom-furthering purpose that God intends.
MissionFest Toronto is an incorporated, not-for-profit charitable organization. Founded in 1995 by a committee of mission and church leaders, their desire was to launch an annual missions conference to encourage and engage the Christian community in missions.
For more information:
Website:           http://missionfest.org
Contact:           Sharon Ganesh, Executive Director
Email:              info@missionfest.org
Ph:                  (905) 839-5053