The South Asia Bible Commentary (SABC) has been released. The unique comprehensive commentary – one volume on the whole Bible written by and for church leaders in South Asia – had a strong Canadian presence in one of its lead editors, Isobel Stevenson.
The resource is a project of Langham Partnership International and partners. Langham is the organization founded by the late evangelical scholar, author and leader John Stott. It is a global network with a Canadian arm that supports the work of Langham in the areas of preaching, literature and scholars around the world.
The SABC is approximately 1824 pages long with contributors from across South Asia.
Stevenson, a Canadian Langham Literature editor, was the editorial advisor and an editor for the project, helping to lead a team that included another Canadian, Krysia Lear, an Ontario-based proofreader.
"It was a great privilege to serve the church worldwide in this way," says Stevenson.
The SABC includes chapters on such issues as the caste system and violence against women, examined through the lens of the Bible and South Asian culture.
Dr. Chris Wright, International Ministries Director of Langham Partnership, spoke at the recent launch event in Delhi, "…John Stott established a programme to create and provide high quality Christian literature, in many languages, for the benefit and maturity of pastors and ordinary Christians in parts of the world where such resources had been scarce," he said. "Hundreds of thousands of books have been produced and distributed in many countries over many years. And this South Asia Bible Commentary is the latest, and perhaps the most outstanding, product of this Langham Literature — and, if we may say so, the one of which we are right now very proud."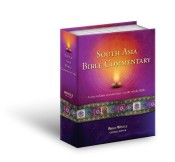 Langham Canada has launched a special campaign appeal to distribute copies of the SABC to church leaders in South Asia.
The vision of Langham Partnership is to see churches in the Majority World equipped for mission and growing to maturity in Christ through the ministry of pastors and leaders who believe, teach and live by the Word of God.
The mission is to strengthen the ministry of the Word of God through: nurturing national movements for training in biblical preaching (Langham Preaching); multiplying the creation and distribution of evangelical literature (Langham Literature); and strengthening the theological training of pastors and leaders by qualified evangelical teachers (Langham Scholars).
Contact:
Dr. Stephen Andrews, chair of Langham Canada
stephenalgoma@gmail.com
705-256-5061