27 January, 2014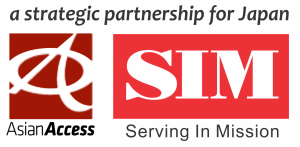 TORONTO–(CANADIAN CHRISTIAN NEWS SERVICE)–SIM Canada and Asian Access have entered into a strategic ministry partnership to plant, strengthen and partner with churches and missionaries in Japan.
The two organizations share a common vision for Japan for the year 2020 which includes the creation of 100 church multiplication networks, 1000 congregations ready to plant new churches, 1000 missionaries sent out of Japan into the cities of Asia, and one million new followers of Christ.
"Rather than duplicating ministry and expenses we have found synergies within a partnership," explains John Denbok, Executive Director of SIM Canada. "Each partner maintains its distinct identify but brings it's respective and complementary strengths to achieve a mutual goal of launching 100 church multiplication networks. Asian Access will lead the vision and field management in Japan, while SIM Canada will mobilize, train, manage member care and finances. It's a win-win for the Kingdom."
Elliott Snuggs is Asian Access' Executive Vice President: "Following a three-year process of examining the respective DNA of our organizations, including our vision, mission and core values, the leadership teams seized the opportunity to collaborate, forming what we believe is a new and emerging model of mission work, one that will allow each of us to to use kingdom resources even better."
The partnership between Asian Access and SIM Canada, beginning February 2014, has the potential to better care for current missionaries on the field in Japan, provide more missionaries for that field, and provide a strategic way for these missionaries to partner with churches across Japan.
Asian Access is a non-profit mission organization focused on developing emerging kingdom leaders who multiply churches across Asia. Its Canadian office is in Delta, B.C. SIM Canada, headquartered in Scarborough, Ont., is a Christian mission to partner churches worldwide to evangelize, minister to human need, disciple and equip churches for the Great Commission. It is one of the largest missionary sending agencies in the world.
Both organizations point to their complementary vision, mission, values and doctrinal statements; a comprehensive partnership agreement; and a partnership team comprised of members of both organizations that will meet regularly as strong indicators that this carefully planned partnership will work effectively for the good of the Church and those who serve it in Japan.
Media contacts:
John Denbok, executive director, SIM Canada
Email:  john.denbok@gmail.com
Phone: 705-444-3658
Cell:    705-441-2256
Web:   www.sim.ca
Elliott Snuggs, executive vice-president, Asian Access
Email:  ESnuggs@asianaccess.org
Web:    www.asianaccess.org