WINNIPEG, MAN.–(CANADIAN CHRISTIAN NEWS SERVICE )–He's been a quiet and consistent presence on the music scene since he first began performing on his own in 1989. Along the way, he has touched the hearts and souls of devoted fans across Canada, the United States, and worldwide.
To mark the occasion of his 25th anniversary as a solo artist, Winnipeg singer/songwriter/storyteller Steve Bell has released a multi-disk project called Pilgrimage, along with accompanying keepsake book, and is touring Canada. On top of this, he's the focus of a new feature-length documentary that shines the light on the ups-and-downs of his career, and reveals the story of an impressive musical journey that has spanned a lifetime, and inspired countless lives.
PILGRIMAGE:MULTI-DISK PROJECT & CANADIAN TOUR
How does an artist with the longevity of Steve Bell – who has released 17 albums that have sold over 300,000 copies, and earned numerous awards and accolades including two JUNOs – celebrate a 25-year career? By releasing a multi-disc project, featuring not only his own talent, but the talent of many others.
Pilgrimage is Steve Bell's 18th album release since he put out Comfort My People back in 1989. An ambitious project funded partially through a successful Kickstarter campaign, the four-disc box set contains:
Disk 1: Pilgrimage – 12 brand new songs from Steve Bell, conceived during a songwriting retreat in 2013, and centred on the theme of Lent. The collection is produced by Steve Bell, long-time manager Dave Zeglinski, and Murray Pulver.
Disk 2: Unadorned – 12 songs from Steve's previous albums, selected by friends and fans, and re-recorded with just vocals and guitar. The collection was recorded at Whitewater Studios in Surrey, BC, under the direction of producer Roy Salmond.
Disk 3: Good Company – 13 of Steve's songs, secretly recorded by musician friends Jon Buller, Diana Pops & Adrian Bradford, The Bros. Landreth, Mike Janzen, Carolyn Arends, Glen Soderholm, Bob Bennett, Ego Spank, Gayle Salmond, Jacob Moon, David Jennings, Don Amero and Malcolm Guite, each of whom chose their own favourite from Steve's massive body of work.
Disk 4: Landscapes – 17 previous songs remixed as instrumental versions without vocals, highlighting the musical landscapes and the many musicians behind the melodies. It's a personal project by Dave Zeglinski, who started remixing Steve's songs to play as 'background music' before concerts, and discovered a demand for the mixes.
Pilgrimage was released this fall, along with an accompanying keepsake book that includes, among other things, a reflective biographical essay and discography written by John Stackhouse Jr.
Find more info about Pilgrimage here:
pilgrimage.stevebell.com
Listen to tracks from Pilgrimage here:
soundcloud.com/pilgrimage-steve-bell
Watch the music video for radio single Turn It Around:
vimeo.com/105982480
To celebrate his 25th anniversary release, Steve Bell is performing 31 shows across Canada, in churches, community auditoriums and theatres, and in the private homes of friends and colleagues.
BURNING EMBER: DOCUMENTARY ABOUT STEVE BELL'S CAREER
It's coincidental, but fittingly so, that during the 25th anniversary year of Steve's solo career, Refuge 31 Films has released a feature-length documentary film about his life's work. Filmmaker Andrew Wall approached Steve Bell about doing this project, and the timing couldn't have been better.
For the past year, a film crew followed Steve from Seattle to PEI, and San Antonio to Los Angeles, chronicling life on the road and providing a backdrop to the larger 25-year story. The result is the 90-minute documentary Burning Ember: The Steve Bell Journey.
View the documentary trailer here:
stevebell.com/burning-ember-documentary
Here are a few notable endorsements about the documentary:
"This is one of the better produced documentaries I have seen…it clearly illustrates that there are far more important goals out there in the real world other than fame and fortune…"
Michael Klausman
President, CBS Studios
"A finely crafted, compelling look at life behind the scenes with Steve Bell. Andrew Wall has captured the complex journey of navigating the Canadian arts scene, and why the best musical gifts are a risk-filled journey from artist to audience…"
Lorna Dueck
Context with Lorna Dueck
Globe and Mail Commentary Writer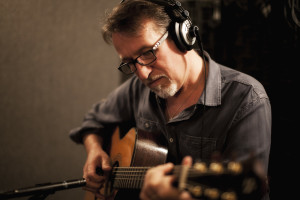 ABOUT STEVE BELL
www.stevebell.com
Steve Bell is a songwriter, storyteller, and true troubadour for our time. Over the course of a 25-year solo career, he has been sharing a message of love, hope and faith through songs, stories, and writings. He is a purveyor of truth and beauty and champion of kindness, on a never-ending mission to "encourage Christian faith and thoughtful living through artful word and song." He is a mentor to many, and advocate of numerous meaningful causes.
Steve's vocation as a singer-songwriter, borne of a deep sense of calling, has led him down avenues entirely unforeseen. Born in Calgary in 1960, he has been performing since childhood. His father was a Baptist minister, and his mother a gifted pianist and songwriter. Steve taught himself to play guitar, and honed his skills in a medium-security penitentiary where his father was a chaplain, learning from inmates permitted to have jam sessions in the chapel on Saturday afternoons. Steve often reminisces at concerts that part of his success is thanks to several of Canada's most unwanted men who invested in him when he was eight years old.
Steve's recording career began at 13 when his family's gospel band, The Alf Bell Family Singers, recorded an LP that contains some of his earliest songwriting. After graduating from high school he was a member of a succession of bands playing musical genres ranging from folk to jazz-rock, novelty and country. For three years he played with Manitoba folk trio Elias, Schritt & Bell, which found regional success and released one commercial studio album in 1982. Bell eventually left the band and played with other artists until 1988 when he withdrew from performing.
It was during this period that his childhood Christian faith became reanimated, and over a six-month period he wrote most of the material for his first three solo projects. Faced with a lack of interest from established labels, Steve formed the Winnipeg-based independent record label Signpost Music with friend Dave Zeglinski in 1989 and released his first album, Comfort My People, which comprised 300 cassettes.
Over the next 25 years, Steve would go on to release a total of 18 albums (including his newest project Pilgrimage), sell over 300,000 units, and earn numerous awards and accolades including two JUNO Awards, three Western Canadian Music Awards, three Prairie Music Awards, and three Gospel Music Association Covenant Awards. In 2011, Steve fulfilled a life-long dream of performing to a capacity-crowd at Massey Hall with the Toronto Symphony Orchestra. For his "skill, his musicality, for his connection with the symphony, and for his openness," Steve was awarded the Winnipeg Symphony Golden Baton Award.
Amidst his intensive touring schedule, Steve has consistently found time to live out his kindness in a tangible way. Working on behalf of aid organizations as World Vision, Compassion Canada, and the Canadian Foodgrains Bank, his advocacy efforts have helped raise awareness and significant financial support. A close association with the National Roundtable on Homelessness and Poverty has helped draw attention to the plight of Canada's marginalized. Steve sits on the Board of Directors for Street Level, a Canadian forum on homelessness designed to support those who serve the poor and disadvantaged.
Steve's career has been marked by achievements and disappointments, triumphs and letdowns. He continues to persevere in his vision of truth, beauty, and goodness, ever expanding his artistic boundaries and challenging the definition of success. Underlying it all is the simple fact that his music, words, and concerts resonate deeply within the hearts and souls of his fans, providing both solace and inspiration. It is this connection, rather than platinum plaques to hang on the wall, that is Bell's true goal and his most real accomplishment.
It's been an extraordinary journey for Steve Bell so far – one that holds much promise for the future.
-30-
CONTACT FOR MEDIA:
RoseAnna Schick, RAS Creative
Publicist for Steve Bell's Pilgrimage Tour
204-783-7600 / rascreative@yahoo.ca