February 3, 2014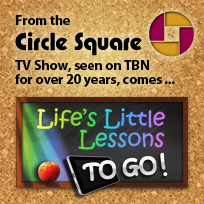 LONDON, Ontario–(CANADIAN CHRISTIAN NEWS SERVICE)–Help is here for parents and teachers concerned about the character development of children. Life's Little Lessons To Go is a new website, offering a streaming digital video library of 45 dramatic video short stories that teach timeless truths and life lessons to kids (K to grade 6).
Originally part of the Circle Square children's television series produced by Crossroads Christian Communications in the '80s, each video presents a tender, poignant, often humorous live-action vignette that touches on topics as diverse as "Being Trusted," and "Working Together," and as serious as "Child Abuse" and "When We Grieve." Dramas are followed by suggested discussion questions, which adults can use to spark meaningful conversations, encouraging children to think through important issues for themselves, while learning values such as honesty, compassion and integrity.
Circle Square series writer, Jana Lyn Rutledge, packaged the series for today's audiences. "It's a tough time to raise kids," says Rutledge. "Children are growing up in a fast-paced, entertainment-addicted society. Canadian children average from 6 to 8 hours of screen time every day."
"This inoculation of 'amusement' can negatively influence a child's developing beliefs and values."
Life's Little Lessons To Go is a tool parents can use to help train their children to reflect and think critically. Lessons centre around core values of timeless truth, offering an alternative–and an antidote–to guard maturing hearts in today's media-saturated environment.
The stories serve as a resource to build character, and to facilitate parents, grandparents and teachers in making the most of teachable moments with children. Each video teaches important life lessons and ends with a few suggested discussion questions that can spark conversations and influence moral growth for a lifetime.
A generation ago, these stories taught today's moms and dads the value of being true to themselves, of working hard and being thankful. These same stories are now available digitally to help a new generation with issues they face every day.
"The world may have changed," Rutledge says, "but the importance of cultivating values in children remains. These videos entertain, yet help kids think through critical issues, so that when challenges arise, they're prepared to meet them."
The Life's Little Lessons To Go videos stream to smart phones, computers and tablets. The entire digital library of 45 videos can be accessed for a monthly membership of only $5.00, and can be unsubscribed at any time.
"Story telling never grows old," says Rutledge. "Children learn what happens when a foolish choice is made and see the consequences of poor behavior. Life's Little Lessons To Go teaches truth through story in a way that cultivates wisdom. Wisdom and truth safeguard our hearts and lives."
Contact: Jana Lyn Rutledge
Website: www.lifeslittlelessonstogo.com
Email:    jannai@execulink.com
Phone:   (519) 293-3776