March 24, 2014
BRAMPTON, Ontario—Twice each year Partners International Canada brings its dynamic ministry leaders from around the world to share advances in their work overseas. These leaders possess outstanding vision and are on the leading edge of holistic international development. Fueled by incredible passion for showing the love of God in their unique contexts of ministry, they help to restore lives and transform communities.
"We're excited to invite Canadians to meet these dynamic leaders personally and hear their motivating stories of faith, restoration and hope firsthand. We are so tremendously blessed to have such amazing partners," said Brent Mitchell, President of Partners International Canada.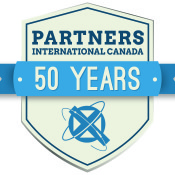 Our first visitor this spring is the Director of the Mahima Aftercare Home in Kolkata, India, Smita Singh.  Partners International Canada works with Smita to help rehabilitate and reintegrate minor girls who have been rescued from the sex trade. Some are as young as 8 years old. Smita uses a holistic approach to provide healing, rehabilitation and reintegration into the community. The home also focuses on preventing re-trafficking and bringing the perpetrators to justice.
Smita will be travelling throughout Ontario until April 7th and is available to speak at your event or meet with you personally while on tour.
Also on the Spring Tour, we are pleased to present:
Carlos P., the area director for South America. Carlos is a clinical psychologist and a highly connected advocate for the marginalized and endangered Andres and Amazon peoples of South America.  Dates: March 27 – April 7, 2014
Dr. Ghassan H, of the Free Evangelical Association of Lebanon will speak of his amazing work sharing the narrative of God in the dangerous and complicated context of the Arab World, including Syrian relief efforts. Dates: April 23-May 12 2014
Hope in Action Tour: http://partnersinternational.ca/hope-in-action-tour/
About Us: Partners International is a Christian not-for-profit delivering holistic international development. Our mission is to mobilize Canadians into partnership with locally-led NGO's to bring sustainable transformation in the world's harshest sectors and to advance the Kingdom of God.
For further information:
Kevin McKay:
Email:    kevin.mckay@partnersinternational.ca
Phone:  905.458.1202 ext. 228
Web:     www.PartnersInternational.ca
Twitter: @partnerscanada
CLICK HERE for Photo 1 (Mahima hands…supports Smita Singh)
CLICK HERE for Photo 2 (Amazon Tribe…supports South American leader)